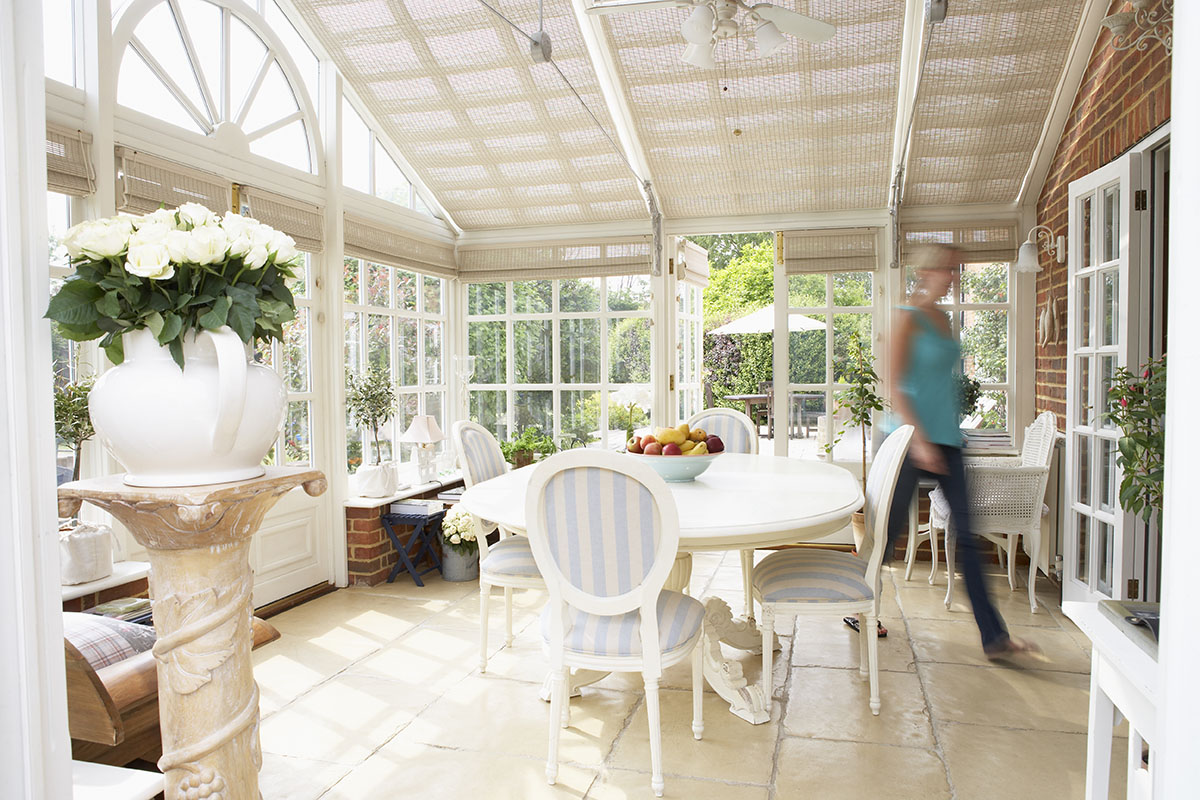 Why do you need conservatory blinds?
Having a conservatory gives you a light and airy space to enjoy views of your garden. To make the most of your conservatory all year round you will need to consider how it will work in the height of summer and the depths of winter. Blinds are the perfect solution to reduce the glare of the sun and to keep temperatures low. In winter they bring a sense of cosiness and help to keep the heat from escaping through the glass. In addition, blinds offer privacy.
The Importance of Conservatory Blinds
Choosing the right window blinds is important to ensure that you are conserving heat in the winter and keeping the room as cool as possible in the hot summer months.
You will want to ensure that the blinds also provide the look you desire and pick a style that suits your décor. As conservatories contain so much glass you will need to consider the cost of installing the right blinds and take your time comparing the different options.
Types of Conservatory Blinds
You can choose different styles of blinds. Each type will bring a different look to the conservatory and have different benefits. Let's take a look:
Vertical Blinds
Vertical blinds are usually made from fabric with different amounts of transparency. They come in a wide range of colours and can be used to create clean straight lines. They suit a variety of styles from contemporary to traditional and they can be easily tilted to control the amount of light let into the room.
They are an economical choice for large windows, but they do need regular cleaning as they are prone to collecting dust.
Roller Blinds
Roller blinds are the most economical choice for window shades. They can be rolled up or down depending on the amount of light or privacy required. You will find a wide variety of fabric choices to easily match the style you want to create.
They are easy to wipe clean and offer an efficient way of styling conservatory windows. There are blackout and thermal options to improve their efficiency.
Venetian Blinds
Venetian Blinds can be made from wood, aluminium or PVC.  It's important to choose a material that will withstand the higher temperatures experienced in the summer months. For this reason, aluminium is the recommended choice for conservatories. They do come in a range of finishes including wood effect styling.
These blinds are very functional and have a wide range of ways to control them through height and tilt. This versatility is ideal for changing the amount of light and visibility. They are a bit fiddlier to clean than a roller blind but still wipeable.
Roman Blinds
Roman Blinds bring warmth and luxury to a room. Made from fabric they can be chosen to complement the room design and add a cosy feature that dresses the windows. Easy to operate they dress the top of the window but can be lowered to block out light and heat.
They can have thermal or blackout linings to increase their efficiency and are a good choice as an alternative to curtains.
Pleated Blinds
Pleated blinds can be made to fit awkward conservatory windows and even roof panels. They are designed to fit each window exactly and can be operated with cords or even by an electric motor and remote control. Some come with an additional thermal coating to maximise their ability to reflect heat or keep heat inside. The honeycomb layering is particularly thermally efficient.
They are a good choice for south-facing conservatories that heat up in the summer or to ensure the conservatory is a room that can be used all through the year.