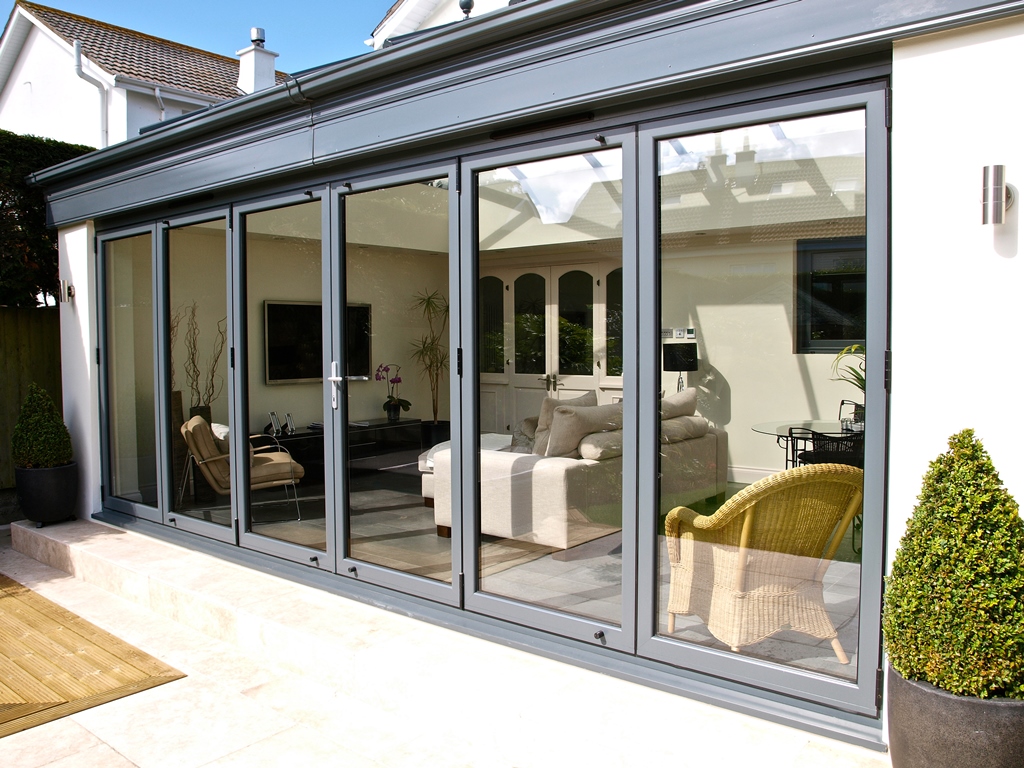 In many respects, bi fold doors are a lot like a concertina. This is because they are essentially a series of panels, which fold up and stack neatly against each other when opened. Each panel is attached to the next with hinges, while rollers on the top and bottom enable everything to slide sideways.
While this might sound like an impressive yet impractical feature, quite the opposite is true. For example, most bi fold doors feature a traffic door, which is great for popping in and out on a daily basis.
Bi fold doors also mean you can make the most of any indoor space, let an abundance of natural light into your home, and even increase the property's value.
Still not convinced? Here's some more information about how bi fold doors work and their biggest benefits.
How Do Bi-Fold Doors Work?
Bi Fold Doors feature a tracking system that runs along the panels and are connected on a train. The panels glide along the tracking system when opening and closing with the help of wheels for a smooth and quiet action.
Although bi fold doors generally come in pairs, they can feature anywhere between two and seven panels. They open either inwards or outwards for your convenience and, while generally installed near an outside space, can be used to cover pantries, laundries, and wardrobes too.
What Are the Biggest Benefits of Bi Fold Doors?
Illusion of more space – Even if your bi fold doors are installed in a small room, once they are opened it will appear much larger, especially when opening out onto a garden or outdoor space.
Excellent functionality – The space and openness that bi fold doors create is great for entertaining. When shut, you still benefit from lots of light and a feeling of freedom.
Long-lasting and hard-wearing – Made from materials including uPVC, aluminium, and timber, bi fold doors are extremely durable and will stand the test of time.
Energy efficient – Bi fold doors are built to completely seal your home from the outside world, which means greater energy efficiency and lower heating bills.
Safe and secure – You can increase the safety and security of bi fold doors with a lock system that activates at multiple points in addition to reinforced glass for the panels.
Peace of mind – Modern bi fold doors undergo comprehensive testing and certification by the British Standards Institute for your peace of mind.
Increase property value – Should you decide to up sticks and move on in the near future, your property's value will improve dramatically with bi fold doors already installed.
Bi Fold Doors from Colne Valley Windows
By choosing Colne Valley Windows for bi-fold doors, you'll receive the following:
Honest cost estimates with no hidden charges
Transferable 10-year insurance backed guarantee
Timely, quality installation
Friendly and clean service, with no mess or muddle left behind
So, contact Colne Valley Windows for more help or assistance with bi fold doors.