What you should never use to clean your windows and doors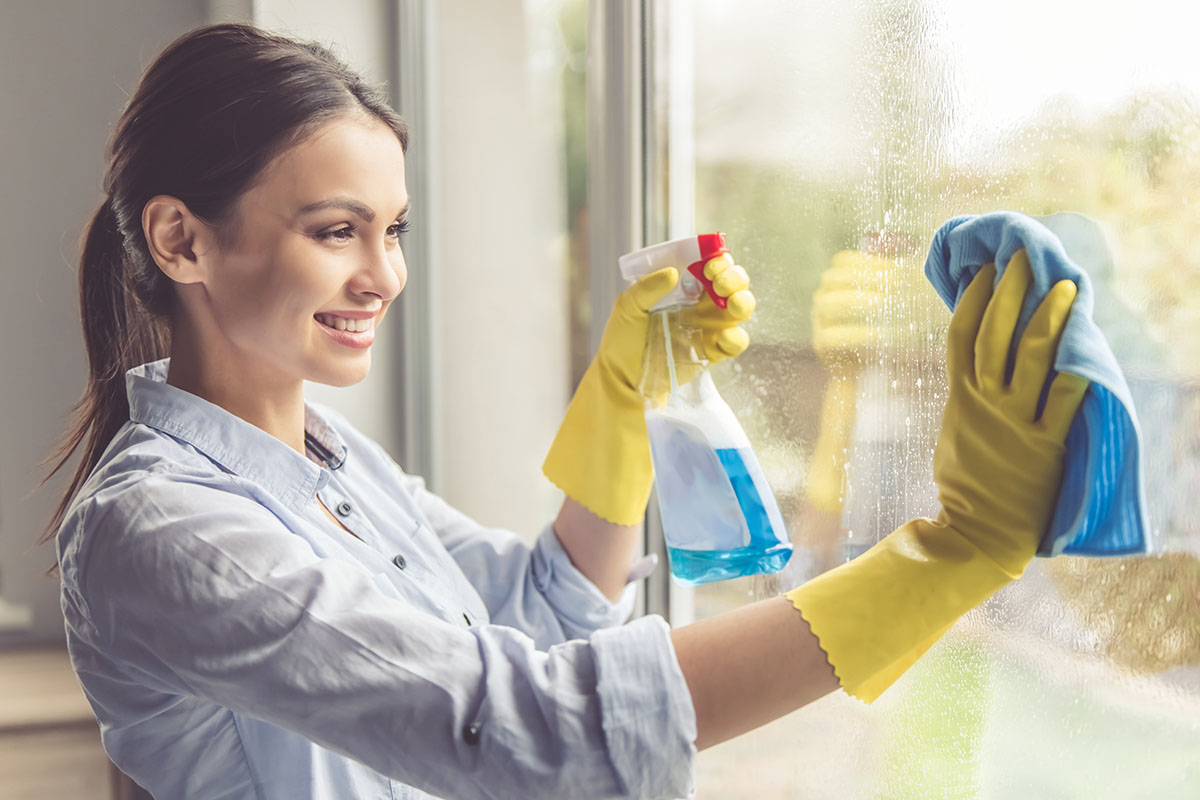 The vast majority of us don't exactly relish the prospect of cleaning our windows and doors. But like many other domestic jobs, it can make a world of difference to the look and feel of your home, as Ideal Home Content Editor Jennifer Louise Ebert explains:
"Invite the brightness back into your home with sparkling clean windows. Never underestimate the power of clean windows to transform your rooms, making them light, bright and good for the soul."
Ebert goes on to add that there are plenty of ways to bring the shine back to your window and door panes, from making your own cleaning solution to the trusted old newspaper trick.
However, there are just as many things you should avoid using when cleaning your windows and doors. Not only could the wrong product leave smears and smudges, it could also damage your windows and doors beyond repair.
With this in mind, here are a few things you should never use to clean your windows and doors.
Scouring pads
It might seem obvious, but you'd be surprised at just how many people use scouring pads to clean their windows and doors. Even the toughest, most durable glass can be easily damaged by abrasive surfaces.
For tough marks on windows and doors, consider using the softer side of a washing up sponge instead. This won't cause any damage yet will leave your windows and doors looking great.
Abrasive powders and sprays
In addition to abrasive cleaning products such as scouring pads, you should also be mindful of abrasive powders and sprays. This is because the chemicals they use are designed to eat into the surfaces they're cleaning in order to remove as much dirt as possible.
Unfortunately, this can have a detrimental impact on window and door materials like wood and uPVC. An equally effective alternative is warm soapy water for frames, and vinegar for glass panes.
Steel wool and brushes
With particularly tough patches of grease and grime, it can be tempting to use something like steel wool to remote them. But just like a scouring pad, steel wool will only cause irreparable damage to your windows and doors.
Homeowners with metal frames may also be tempted to reach for a steel brush to remove evidence of surface rust. The same could also be said for paint chips on wooden frames. But in these circumstances, your best bet is to use a mild rust remover on metal or brush the chips away and consider a renovation job with wooden frames.
Sandpaper
Once again, sandpaper is often used by homeowners with wooden frames. But unless you know what you're doing, it is highly recommended to avoid using sandpaper in all scenarios.
Alternatives like soft scrub pads and sponges should provide you with just enough cleaning power but will avoid the harshness of sandpaper. However, if your window frames have got to the point where sandpaper is required, it might be time to think about some brand new windows and doors anyway.